Arizona Psychodrama Institute – September 9th – 
Special Price – $99 for Full Day workshop in Tucson. 12 Healing Steps for Adult Survivors of Childhood Sexual Abuse. Receive 7 hours of CE.
Register by Sept. 4
.
Debunking Myths – I'!

Myth: Drs.
Whold.
Fact: Altts.
The hurn 14.
April Discussion Question: Which Holiday was your favorite as a child and which is your favorite now?
Richard R., a FIRST-ISSUE reader from Wisconsin, offers this response: Foa drag.
Alright, Richard! Fantastic answer!  Watch your mailbox, Dr. Marlo Sunglasses are on their way to you.
May Discussion Question: Whiw?
E-mail answers to: discussion@drmarlo.com and answers will appear in the next newsletter. Your state of residence, your first name and last initial will be used unless you tell us not to use them.  Anyone who responds and also includes a mailing address will receive our Dr. Marlo Sunglasses!
Thought For The Day: An.
PERSONAL GROWTH EXERCISE
To spotlight our E-Coaching services, our newsletter includes a personal growth exercise.  These exercises illustrate the kinds of activities our clients are asked to complete when they are using our E-Coaching services.  The exercises printed here are quite general in nature, but the exercises sent to our E-Coaching clients are individualized to meet each client's specific needs.  E-Coaching Sessions are available for $50 each.
Bries
Two bment.
For a FREE 5-Session Trial of E-Coaching, send us a report of how this activity worked for you!  We may share your report in our next newsletter with your name, last initial, and state of residence (unless you tell us not to).  Send to FreeSessions@drmarlo.com.  (Offer Expires 6-31-12)
E-Coaching!  Try it Now Before the Rates Go Up!
We have traditionally offered a 10-session consultation package for people who are not diagnosed with any mental illness who would just like some coaching, some guidance, or some personal growth for $500. This price will go up to $650 on July 15th.  If you'd like to try it quick before the rates go up, call 480-705-5007 to make the $500 payment, then send an e-mail to DrMarlo@drmarlo.com, expressing your specific area of concern to begin!
Publish Your Work – Promote your Practice – Two ways to publish – for free as a semi-anonymous author (your state of residence, your first name and last initial will be used), or, for $25, as a professional promoting a mental health practice (your full name, with credentials, address, phone number, and e-mail address will be included).  We reserve the right to decline to publish any submissions.   Send creative contributions to:  articles@drmarlo.com. We have 69 new subscribers since last issue, bringing the current total to  2749 subscribers.
Dr. Marlo in the Media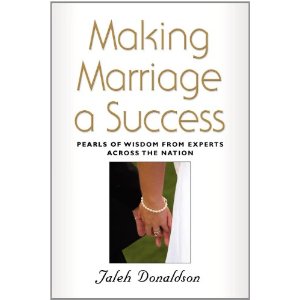 "Making Marriage a Success" by Jaleh Donaldson – a complilation book in which Dr. Marlo Archer is quoted.
Join us on Facebook! Click here – Information on Dr. Marlo's Practice and other resources that are available.
Follow us on Twitter! Click here – Articles and links to articles tweeted daily.
Fun Products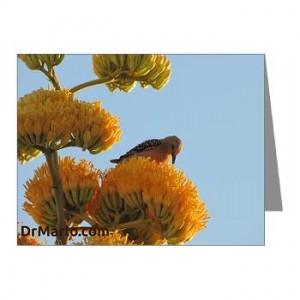 Woodpecker Note Cards – 20 blank notecards adorned by a photo of a hungry woodpecker atop an agave bloom to send your heartfelt messages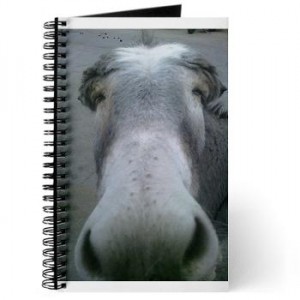 Journal – Wild Burro from Oatman, AZ will guard your innermost thoughts, recorded in this helpful journal.
Arizona Psychodrama Institute offers therapists the chance for CE's and personal growth! –Marlo J. Archer, Ph.D.